CHAMPIONS ELECTRICIAN
NEED AN ELECTRICIAN IN CHAMPIONS TX?
Calling a Champions home electrician can be a nightmare. If you want dependable service from a name you can trust call the electrical experts at Dempsey Electric. For over 30 years, our exceptional customer service and quality electrical work has put Dempsey Electric on the map as the best Champions electrician. Family owned and operated we treat all of our customers as if they were part of our family. Thats why our expert electricians go the extra mile to make sure your Champions electrician experience is as simple and easy as possible from start to finish.
WHY CHOOSE DEMPSEY ELECTRIC AS YOUR CHAMPIONS RESIDENTIAL OR COMMERCIAL ELECTRICIAN?


THATS EASY, THE DEMPSEY DIFFERENCE.

Our number one goal at Dempsey Electric is to gain a customer for life. We must be doing a good job because most of our business comes from repeat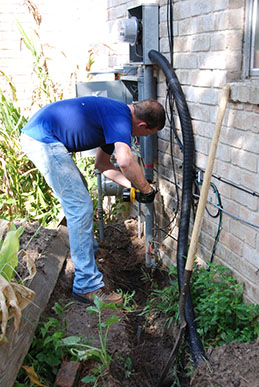 customers and customer referrals. Check out what our customers are saying about us.
At Dempsey Electric an electrical expert is standing by 24/7 to help you with all your Champions electrician needs. We will never transfer you to a "Customer Service Representative."
At Dempsey Electric, we offer free estimates no matter the size of the job.
When it comes to experience, Dempsey Electric takes the cake. Serving Champions TX for over 30 years, our electrical team has seen it all and is always prepared for anything.
Experience the Dempsey difference for yourself and make Dempsey Electric your Champions electrician. Remember, whatever the job, large or small, Dempsey does it all. Call 713-691-6456 today and LET DEMPSEY DO IT!