KATY ELECTRICIAN
Call 713-691-6456 FOR ALL YOUR KATY ELECTRICIAN NEEDS
The next time you find yourself facing a home or office electrical mishap call the expert Katy electricians at Dempsey Electric. Serving the Katy area since 1972, Dempsey Electrics electrical team definitely has the experience to get any job done right-the first time! Not only that but from start to finish we promise our customer service won't disappoint. Thats why Dempsey Electric is Katys most trusted electrician. Specializing in commercial and residential electrical work our expert electricians are here to help you 24 hours a day 7 days a week whether you need us to...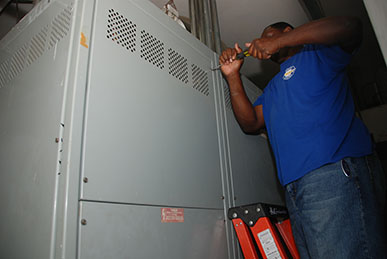 Install that new flat screen TV
Retrofit T-12 lighting fixtures with energy efficient T-8 lighting fixtures
Conduct inspection, occupancy and habitability report repairs
Install or fix gate opener circuit on a residential or commercial Katy property
Repair or replace parking lot lighting
And much, MUCH more...
WHATEVER YOUR ELECTRICAL NEED DEMPSEY ELECTRIC IS YOUR KATY ELECTRICIAN
Experience the Dempsey difference for yourself, we promise you won't be disappointed using us as your Katy electrician. Call 713-691-6456 to speak to a member of electrical team or fill out our online service request form to LET DEMPSEY DO IT!